Rocket 428
High Compression Cylinder Head
Deluxe
NOW accepting deposited ($400) orders for
delivery about September 2021.
ONLY DEPOSITED ORDERS TAKEN.
NEWS 3/11/2021
The second run of Rocket 428 Cylinder heads has begun. Foundry has tooling tested Now waiting for some more sales before we start.
All heads are 6.5:1CR and can produce 82HP easily
and 110+ HP with all the "secrets".
Heads will be packed with a small bag of loose parts and
the INSTRUCTION sheet with spark plug info.
You will find the sheet between the outer box and the inner cardboard liner.


The Original Rocket 428
Hi-compression 6.5:1 CR cylinder head for
Ford Model A and B engines
with
dual spark-plug capability
.
AVAILABLE
in two versions:
1: Original Rocket 428 Deluxe at . . . . $735
plus ship
8 spark-plug ready with 12 head nut washers and 4 Plug Seals.
2:
Original Rocket 428 Super Deluxe at . . . . $1025
plus ship
MORE INFO HERE
8 spark-plug ready with 12 head nut washers and 4 Plug Seals.
Comes with Thruster Tube and 4 Machined Ports,
8 bolts/washers and 4 O-ring seals.
(requires a pusher water pump)
.
OPTIONAL
Water pump block off Plate
Water Outlet finned block off plate
A deposit of $400 down required and balance at shipping.
Spark-Plugs
14mm, 3/4" reach, flat seat with ring gaskets not supplied.
Sign up today with your deposit and you will get a
Rocket 428 Speed head
.
Contact
Scalded Dog Speed
Parts at
513-724-0700
or email your interest to
[email protected]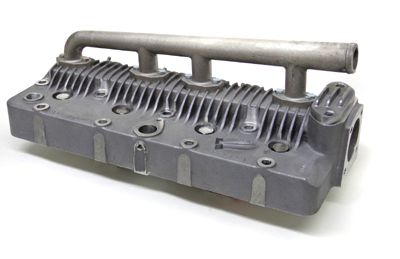 One of my best customers, Charlie Blevins (MD), just got his Rocket blue powdered coated and polished back from the polisher. THAT IS REALLY SOMETHING!!
Send in you photos and we'll put them right here.
The Rocket 428 Deluxe comes in 2 versions.
Click HERE
to see more of the
Super Deluxe Thruster version
Spark plugs on driver's side are the default position.
Top side plugs come with our custom Plug Seal.
Of course you don't have to, but when you're ready to go to 8 spark plugs your Rocket 428 will be ready. Smoke'n
Each head has a special 1/2 NPT boss on top ready to accept your
hot water gauge sender or heater.
Above: The special made ring gaskets are for the stainless steel spark hole seals.
4 of each ship with the head.
Plug seals are available separately for other cylinder heads with dual plugs
with 14mm 3/4" threads. $20.00 each
Below are a few of the first run of Rocket 428 . . "Flash" would be so proud.
PAYMENT: Send DEPOSIT Checks Only Made out and mailed to: YAPP STUDIOS INC3860 CAIN RUN RDBATAVIA OH 45103
Include your EMAIL to receive an INVOICE receipt or ask for a hard copy mailed.
Overseas buyers please contact me for arrangements.
The Water Thruster Pipe is designed to fit the the Rocket 428 Speed Head.
It can be fit to other engines and cylinder head.
Think V8-60 and 4 cylinder aircraft and more.
Thruster Pipe sold separately unmachined . . .$180.00 each plus ship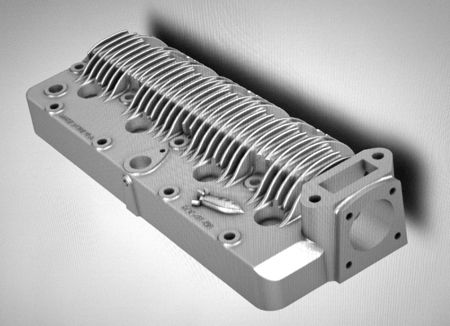 FEATURES
Fits all Ford Model A, B, G28T, Gaz, British & Canadian
engines 1928-1934
356-T6 fine grained aluminum casting. Publishable.
6.5:1 compression ratio (CR).
Eight (8) spark plug capable for DUAL spark ignitions.
Ships with four (4) spark "plug seals" to run with SINGLE spark ignitions.
Light weight of 24-26 pounds.
Use stock stud sizes and Model A water pump or V-8 pump adapter.
Water port, top rear, for temperature gauge or heater.
Uses any carbon-fiber-over-steel Model B Ford head gasket (we sell).


COMBUSTION CHAMBER:
Accepts large intake and exhaust valves up to 1.750".
Round 3.98" dia. X 0.060" deep fly-cut protects your pistons.
Runs naturally cooler.
Chambers same as the retired Lion Speed Head IV . . proven superior performance.
Expect 65 to 75 HP out of the box . . depends on parts employed.
110 HP or more is easy to attain if you know the "secrets of speed".
Chambers surrounded with extra metal to hold heat for more HP.
Spark plugs on side at 45 degree (prime default position) produce more HP, than over the valves, with a best of class flame front.
Dual Spark ignition produces even more HP and cleaner burn. . . if you decide to go this route.
Scalded Dog Speed Parts, 3860 Cain Run Rd, Batavia OH 45103, USA .
Phone (513) 724-0700, EST